Trellis Posts
Trellis Materials
We are grape growers ourselves, and know from experience how important the right choice of trellising materials is - and how a well thought out trellis system can reduce the time and money involved in managing a vineyard.
When carrying out repetitive manual tasks on thousands of plants, a few seconds of time saved can add up to £100's saved per acre. VSL supply a range of trellis materials that are the most cost effective and time efficient for your management system.

Oxford Trellising System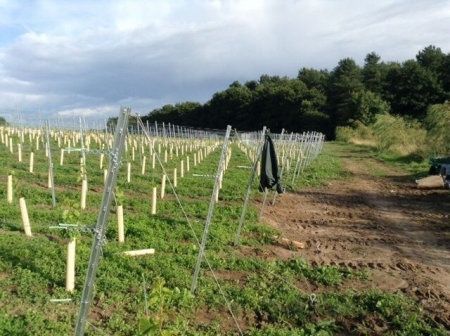 We became dissatisfied with the performance of many galvanised steel posts supplied from Europe, so we developed our very own 'Oxford' post system.
Made of 2mm diameter galvanized steel, it's functional and robust design makes it more suitable for driving into stoney soils and won't easily buckle if clipped with vineyard machinery.We have designed our own end post with anchor unit that delivers a strong ,securely anchored end post ,so critical when vines are in fruit.Various additional features have been made available as follows
ContourLok
With the special heeled hook design this enables trellis wire to be locked in to the hooks allowing longitudinal movement but eradicates wires pinging out on undulating ground upon tensioning
Bird Netting Frames
In this particular instance the problem is swarms of Starlings raiding the vineyard .A special post has been designed with an additional mounting area above the standard trellis height.Adjustable arms have been designed to support and tension a rigid roof netting section with attachable side nets or a one piece netting can be draped completely over the framework ,either way the netting is kept away from tangling with the canopy
Please call 01245 476994 to receive a free sample of our post profile.We have no minimum order quantitiy so dont hesitate to call and have a chat about your requirements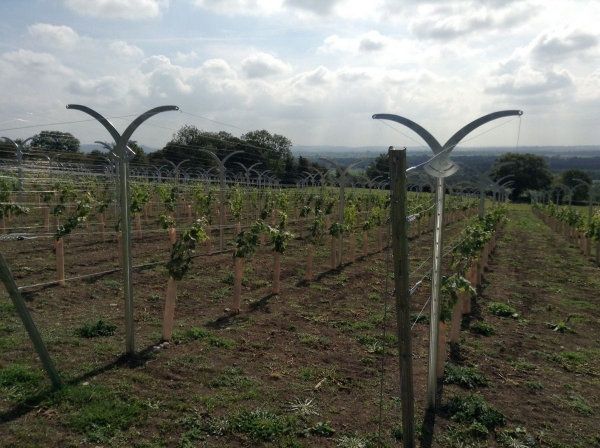 Why the trellis needs to be installed by end of Year 1